t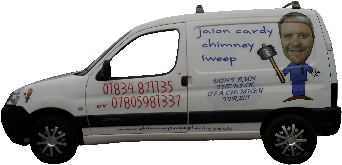 o the website of Pembrokeshire's, Jason Cardy Chimney Sweep.
We Cover the Whole of Pembrokeshire and the Surrounding Areas, and Offer a Professional and Friendly Service.
We use bother brush and electric appliances, are able to conduct a camera inspection of chimneys if needed, and can also remove birds nest or blockages if needed.
We also have experience of cleaning all chimney appliances from plain Open Fires to Multi Fuel Stoves.
Furthermore, we are FULLY INSURED, and have public liability of up to £1million.
Visit our About Us page and Services page to find out a little bit more about us and what services we offer.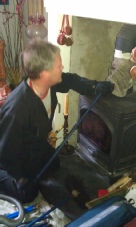 Prices:
Starting from £30 per Chimney, to £45 per Chimney, Depending on which area of Pembrokeshire you are in.
With a Birds Nest or Blockage, or if a Camera Inspection is needed, the price will increase, but only by a small amount.
(If there is more than one chimney per house,
discount will be offered)
Check Out Our Animated Advert
(We recommend that you have any active chimneys/appliances swept,
once every year)
DON'T RUN THE RISK OF A CHIMNEY FIRE!!!